Hello music lovers. We've made a wedding mix for you.
For those of you that don't do a lot of downloading, here are some instructions:
Click here. Your computer will probably ask you if you want to download a .zip file. Say yes. Unzip the file (clicking on it and following any instructions that appear ought to do the job). A folder called Weathering All Storms should reveal itself. Drag the folder into your iTunes (or into whatever program you use to manage your music files). Search for "Weathering All Storms." That should show you all the songs, in the proper order.
If you have any trouble, call or send an email, and we'll help you figure it out.
Album art and track list below…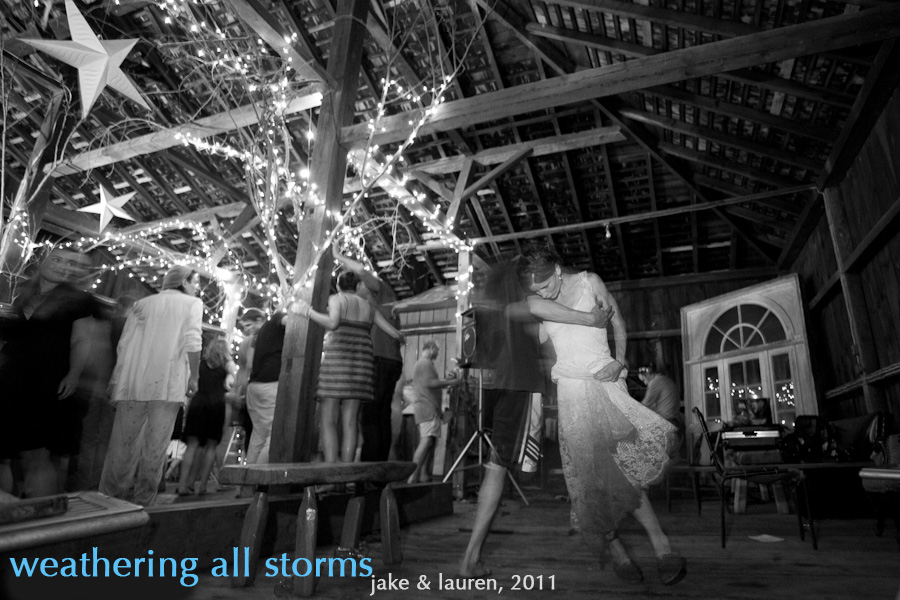 1. Hurricane – Loudon Wainwright
2. Wonderful World – Sam Cooke
3. Roll, Brandywine, Roll – Hoots & Hellmouth
4. Big Ones (and Little Ones) – Wiley Kestner
5. Meet Me By the Back Door – Charlie Mars
6. Wildin' Blues – JT and the Clouds
7. Do I Love You (Indeed I Do) – Frank Wilson
8. She Came in through the Bathroom Window – The Beatles
9. Boogie on Reggae Woman – Stevie Wonder
10. Glad Tidings – Van Morrisson
11. Might as Well Be – Brian Whaley
12. Baby – Devendra Banhart
13. Your Party – Tweed
14. Be All In – The Grouch & Eligh
15. Shine On – Sun Loverz
16. If You Want to Sing Out, Sing Out – Cat Stevens
17. Christmas – Blues Traveler
18. Watching the River Run – Brian Whaley
19. Willin' – Little Feat
20. Song for an Old Friend – Jake and Brian